Greg Guarnieri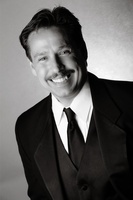 Greg was the first DJ to join the Black Tie staff. Since 1994, he has entertained at all types of special events and is considered Mr. Versatility! Greg is a highly polished entertainer whose top priority is customer satisfaction so whether he's hosting your Wedding, Corporate Event, Bat/Bar Mitzvah, Birthday Party, or Anniversary, his focus is always upon a successful event. His experience and personality have given him the keen ability to keep the crowd moving and involved in the celebration at hand. His interactive style allows him to get the crowd up by using icebreaker dances and keep them dancing by knowing just what songs to play. Greg is frequently requested so booking well in advance is recommended.
Client Feedback:
I work in the business and can assure you that you can't go wrong with Greg as your DJ. Greg walked us step by step through every event which was a huge help on this important day. The reception was so much fun! He kept the crowd dancing and at 12:16 no one wanted to leave. Thank you Greg. We had a blast.
Greg gave a phenomenal performance!!!!!!! He played at my brother's wedding as well as mine. He continues to get referred out by us to all or engaged friends. We had a great time celebrating and dancing and Greg really got the crowd going.
Greg did an amazing job! Everybody had a wonderful time and we have referred Greg to several people already. We have NEVER seen all our family & friends dance so much. It was great and we wouldn't change a thing. Thanks, Greg for making our wedding night so special.
We were VERY pleased with Greg. He got everyone involved without being overbearing and it was wonderful. Many of our guests said it was the best and most fun wedding they have ever attended. We have you to thank for that!!!
Greg was absolutely wonderful! everyone at our reception couldn't stop commenting on his performance. He made our reception a huge success.