Jorge Morales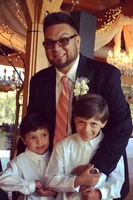 Jorge has been in the entertainment industry since 1992 performing for thousands of people not only as a DJ/MC but also as a regional musician/recording artist. He's been spinning records before he could walk and has a love for music like no other. The special attention Jorge gives to the host and stars of the party provide a worry free and memorable experience, and his ability to read a crowd and win over any party has kept him in high demand. Having been a production manager for Bridal, Auto, Corporate, and Musical Events also gives Jorge a unique perspective in understanding how every aspect must work together in order to achieve success.
Client Feedback:
Our DJ, Jorge, was amazing! He did a fantastic job at assessing the crowd and choosing songs that would make people dance. He also played the songs we requested and avoided the ones we didn't want. Making the preparations for the DJ was very easy and organized and their website is very user friendly. Everyone we dealt with at Black Tie Events, whether on the phone, via email, or in person was very friendly and professional. We couldn't be more happy with our DJ selection and highly recommend them for your event.
Jorge was very professional. He accommodated us with all our detailed requests and especially the ethnic music we requested. He was flexible when we had to make last minute changes in our sequence of program. I would definitely recommend Jorge to anyone in need.
Thank you so much for helping us have an absolutely wonderful night. Everything was perfect and we will treasure the memories always. My little niece Alona, danced until her legs wouldn't hold her up anymore! Everyone enjoyed themselves, and you did a great job. Thanks for everything.
Jorge did a great job. He was great about taking requests and he has a great announcing voice. He really kept the party going. Thank you.
Jorge was delightful!!! We wanted to say a sincere thank you for a great event. The music was wonderful.
We couldn't have asked for a better DJ. Jorge was professional, polite, and kept the party going. We would use Jorge and you company again in a minute.